2018 Directory of TOP Arizona Auto Shows, Clubs, Events & Meets!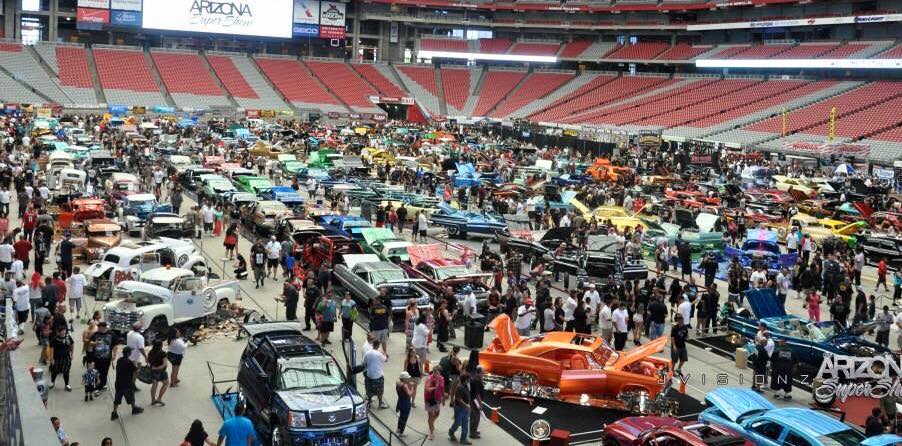 Looking for a local car show, meet or event in Arizona? It's always fun to show off and share our cars, trucks, motorcycles, ATVs, boats and even airplanes. What better place to do so then at an organized rally or with your car club? These types of shows often have live music, food and other festivities which can turn into a full day of excitement and nostalgia. It may also be that you're interested in finding like-minded new friends that have your same passion for the automobile, boat or plane that you do.
We're vehicle lovers of all types, shapes and sizes too so we've created this section for others like us who are looking and want to be a part of the next big 2018 meet or learn about clubs and events in the Phoenix metropolitan area. Below are what we've researched and found to be the BEST local car, truck, boat, motorcycle, off road and website resources to help you find the right group of your particular interest. Each one of our hand-chosen selections includes their current website, AZ contact info and brief description of their specialty.
Click the links below to go to your sector of interest.
A. CARS
1. Car Clubs
2. Car Shows
3. Car Meets & Events
B. TRUCKS
C. OFF ROAD
D. BUS
E. MOTORCYCLES
1. Motorcycle Clubs
2. Motorcycle Shows
3. Motorcycle Meets & Events
F. ATVs
G. BOATS
1. Boat Clubs
2. Boat Shows
3. Boating Instructors

CARS

CAR CLUBS:
a. Arizona Mustang Car Club
Website: http://www.arizonamustangcarclub.com
Description: A local Arizona car club dedicated to everything Mustang. From forums to shows to charities and local events, this club stays active in the Mustang community. Lots of local sponsors and promotions going on throughout the year.
b. AZ Car Nutz
Website: http://azcarnutz.tripod.com/
Description: A local AZ car, bike and trike club that is unique in that there are no rules, mandatory meetings or other club responsibilities. Simply a bunch of automobile fans who love things that ride and drive!
c. AZ Rod and Classic
Website: http://www.azrodandclassic.com
Description: Beginning in the mid 80's, this South Phoenix car club attends many of the yearly events and meets while also giving back to the community through feeding the homeless, providing for needy families and distributing thousands of backpacks and school supplies!
d. Collector Car Club of Coolidge
Website: http://www.collectorcarclubofcoolidge.org
Description: This particular club is made up of collectors and enthusiasts who are into collecting, restoring and showing off their rides. Recognizing that there wasn't a local chapter like this in Coolidge, AZ, they came together to make it happen.
e. Just Cruis'n Car Club
Website: http://www.justcruisncarclub.com
Description: Formed 23 years ago, this club meets every month and also hosts the "Just Cruisin' Car Show" on the first Saturday of each October. Additionally, they host drag racing as quite number of members have these types of vehicles.
f. Mopars Unlimited of Arizona
Website: http://www.moparsaz.com
Description: "Arizona's largest Mopar Club". This club was founded in 1982 with a family friendly mindset, welcoming all types of Chrysler vehicles, with the dedication to preserve, restore, appreciate and enjoy them. Sponsors local Chrysler & Hemi shows.
g. Oldsmobile Club of Arizona
Website: http://www.azoldsclub.com
Description: This club is an official chapter of the OCA (Oldsmobile Club of America) and prides itself in the promotion of preservation, awareness, restoration and appreciation of classic Oldsmobile vehicles that were crafted by General Motors.
h. Prescott Antique Auto Club
Website: http://www.paacaz.com
Description: Incorporated in 1971, this Prescott, AZ car club has a purpose to expand an interest in acquiring, exhibiting and restoring vintage, antique and classic cars while also promoting related activities and entertainment for their members and families.
i. Relics & Rods
Website: http://www.relicsandrods.com
Description: Founded in 1975, this car club is a non-profit and hosts the yearly "Run to the Sun" car show every 3rd week of October which has contributed over $400k to various charities, individuals in need and local Arizona organizations since its' inception.
j. Route 66 Car Club of Flagstaff
Website: http://www.route66carclub.com
Description: Founded all the way back in 1983, this local car club in Flagstaff welcomes all types of vehicles including classics, rat rods, street rods, foreign, restorations, tractors and trucks. Involved in community and social events.
k. Santa Cruz Valley Car Nuts
Website: http://www.carnuts.org
Description: A car club with open membership which is centralized around the "passion for preserving" the history of automobiles and their enjoyment for those who have a deep appreciation.
l. Sedona Car Club
Website: http://www.sedonacarclub.com
Description: This club has members in Sedona and other surrounding areas and is made up of car enthusiasts who don't necessarily need to have a special ride; simply the desire to be active with meets and promote social fellowship and awareness.
m. Tucson British Car Register & Club
Website: http://www.tucsonbritish.com
Description: This Tucson car club celebrates all types of British automobiles and their goal is to promote the maintenance, preservation, display, use and enjoyment as well as to provide ideas and information relating to these vehicles.
n. Yavapai Classic Cruisers of Arizona
Website: http://www.yccaz.org
Description: An Arizona automobile club, founded in 2000, with the focus on all types of classic vehicles. Cars, trucks, street rods, antiques and other vintage classics make up this local club.
CAR SHOWS:

a. Arizona Car Show
Website: http://www.arizonacarshow.com
Description: This site specializes in everything from news, car show calendars, auto racing, car tours, charity events, autocross, track days and a whole lot more! They also encourage others in the sector to advise of upcoming shows so they can be posted on the website.
b. Arizona Car Shows
Website: http://www.arizonacarshows.com
Description: One of Arizona's premier car show website, where you can publish flyers and registration forms for free. You can also order a custom license plate and check out race tracks, cruises, news and updates as well as car club information.
c. Arizona Concours
Website: http://www.arizonaconcours.com
Description: A non-profit organization with the purpose of showing top A-list level vehicles from local and national collectors. It has currently helped raise more than $300,000 through the Make-a-Wish foundation which enabled 30 individuals to receive grants.
d. Auto Show Phoenix
Website: http://www.autoshowphoenix.com
Description: Home of the Arizona International Auto Show, here you can buy advanced tickets, check out the buyer's guide resources, learn more about the upcoming show and plan for the big day which will be at the Phoenix Convention Center.
e. Barrett-Jackson Car Show & Auction
Website: http://www.barrett-jackson.com
Description: One of the largest car shows in all of America, the Barrett-Jackson graces Scottsdale, AZ each February and puts on an amazing show with new and classic cars for sale to the highest bidder at the auction block. Fun festivities, great food and lots of people!
f. Car Show Cruisin'
Website: http://www.carshowcruisin.com
Description: Online car show portal where viewers can see videos, photos, car of the month, car parts, cruise dates and much more! This website offers lots of resources for the avid cruiser or those that want to just check out sweet rides and videos.
g. Car Shows Scottsdale
Website: http://www.carshowscottsdale.com
Description: Organizer of local auto shows in Scottsdale, AZ. Trophies handed out along with free T shirts and goodie bags for the first 100 participants. Free admission, good food and an event you can bring the whole family to!
h. Run To The Pines AZ
Website: http://www.runtothepinesaz.com
Description: It all started over 34 years ago and is going strong to this day up in Pinetop, AZ. This popular classic car show tends to fill up their 550 spots so make sure you register early and remember to observe a moment of silence for founder Bob, who recently passed away.
CAR MEETS & EVENTS:

a. Arizona Auto Scene
Website: http://www.arizonaautoscene.com
Description: Considered Arizona's most trafficked automobile hobbyist and motorist website, here you can find current news relating to drag racing, car auctions, road racing, weekly cruise nights, classified ads, show listings, clubs and much more!
b. Cruisin' Arizona
Website: http://www.cruisinarizona.com
Description: One of Arizona's leading car show website destinations, offering an events calendar for cruise-in's and shows, picture slideshows, a featured section and even an E-store! Online for over 16 years, this site is a mainstay for advertisers and enthusiasts alike.
c. Desert Cruisers
Website: http://www.desertcruisers.com
Description: Formally Desert Cruisers, NationwideCarShows.com provides an online car show as well as a directory of local shows and events happening for each of the 50 states. Easily find out the next big car promotion or new club in your state!
d. Phoenix Car Swap Meet
Website: http://www.phoenixcarswapmeet.com
Description: The largest car swap meet in all of the state, this event is held at the Arizona State Fairgrounds with over 1500 seller spaces where you can find car parts and accessories for all types of rides. A must see for everything automotive!
TRUCKS:

a. Arizona Military Vehicle Collector's Club
Website: http://www.armytrucks.org
Description: A unique Phoenix club where some members own military trucks and other army rigs but others can join without having to be an owner. Monthly meetings, displays and even a parade are standard for this group of avid military vehicle collectors and volunteers.
b. Art of Noize Car and Truck Club
Website: http://www.artofnoize.com
Description: Specializing in rides that have the "California Style" this club has members in AZ and other states and have been around for years with member vehicles featured in such magazines as Grinder, Sport Truck, Truckin', Scrape, Lowrider Euro and many others!
c. AZ Xterra Club
Website: http://www.azxterraclub.com
Description: This local group welcomes anything and everything to do with Nissan trucks and in particular the model Xterra. This web portal has a members section, gallery of photos, club talk and excursions section among other cool attributes.
d. Sonora Desert Scouts
Website: http://www.sonoradesertscouts.com
Description: Located in the Sonora Desert, this club encourages new membership from owners of International Harvester trucks, tractors and scouts among others. This non-profit group sponsors trail runs, meet and greets and national meetings with other IH chapters.
OFF ROAD:

a. Arizona Land Rovers
Website: http://www.azlro.org
Description: A Land Rover club in Arizona with a website forum, many action shots and pictures, events section, membership options as well as details about an upcoming show in February and trail run in March. Explore all of the state with this active group!
b. Arizona Off-Roader's
Website: http://www.azoffroading.com
Description: From mountain bikes, ATVs, off road trucks, dirt bikes, this local club is all about anything and everything that can be driven on unpaved roads and trails! Viewers can find maps, videos, blog posts and even browse classifieds on their website.
c. AZ State Association of 4 Wheel Drive Clubs
Website: http://www.asa4wdc.org
Description: This association of 4 wheel vehicles is a non-profit with the goal of preserving motorized access throughout the state on public lands. This club is a conglomerate of smaller clubs in all parts of Arizona and participate in trail maintenance and planning.
d. Parker Four Wheelers
Website: http://www.parker4wheelers.net
Description: Established way back in 1982, this non-profit that promotes protection of AZ natural resources and responsibility of public land use. Supports a number of other clubs and drives as well as keeping trails open, from proceeds.
e. Slowlizard Off-Road
Website: http://www.slowlizard.com
Description: Located in the southern Arizona city of Yume, this 4x4 group are avid trail runners with open membership. Made up of friends, families and acquaintances, this easy-going club loves the life of "Jeeping" and believes it can help you live longer!
BUS

a. Arizona Bus Club
Website: http://www.azbusclub.org
Description: Arizona's only bus club, this is a non-profit family-oriented organization with the dedication to preserving, restoring and appreciating the Volkswagen mini bus (transporter). Each year this group auctions off a VW bus at their "Jerome Jamboree" event!
MOTORCYCLES

MOTORCYCLE CLUBS:
a. Arizona Antique and Classic Motorcycle Enthusiasts
Website: http://www.aacme.me
Description: This motorcycle club is the oldest in the entire state and focus on classic and vintage bikes. Formed over 30 years ago, this group holds monthly meetings and holds a yearly event and swap meet on Palm Sunday in Phoenix. Find those rare parts at this show!
b. Arizona Confederation of Motorcycle Clubs
Website: http://www.azcmc.com
Description: A group of motorcycle groups and clubs who have come together to support their right to ride, live freely and stand for American's rights. Website includes a members area, AZ legislature, meeting info and an events section of what is next and upcoming.
c. Arizona Trail Riders
Website: http://www.arizonatrailriders.org
Description: With a mission to enjoy dirt biking, this AZ club oversees organized rides even to Baja and Colorado! Made up of friends and families with a similar passion, this group hosts at least one annual event and fundraiser, with members expected to assist.
MOTORCYCLE SHOWS:

a. Phoenix Bikefest
Website: http://www.phoenixbikefest.com
Description: Hosted in Peoria this April 12-15, 2018, the Phoenix Bike Fest is a huge yearly gathering of bikers, enthusiasts and collectors who want to see the newest rides, clothing, brands, live music, food and festivities. An event you don't want to miss!
MOTORCYCLE MEETS & EVENTS:

a. AZ Bike Week
Website: http://www.azbikeweek.com
Description: A massive event hosted at West World of Scottsdale this April 11-15, 2018, comprised of top rock bands (ZZ Top, Collective Soul, Shinedown) including vendors, on site tent and RV camping, all types of food, raffles, clothing, accessories, bike shows, stunts and much more!
b. Phoenix Bike Nights
Website: http://www.phoenixbikenights.com
Description: One of the Valley's leaders in local bike events, you can also find bikes for sale, featured motorcycle dealerships and shops as well as other promotions that no other place offers. Search shows, biker of the month and a lot more on their website!
c. Phoenix Bikers
Website: http://www.phoenixbikers.com
Description: It all started back in 2002 when Kirk Johnson was having a hard time locating biker resources around the valley. Instead of stop there, Kirk built this website and steadfastly compiled valuable information so that he could share with other like-minded AZ bikers.
d. Tucson Biker Events
Website: http://www.tucsonbikerevents.com
Description: While promoted as a biker events calendar and online resource, this Tucson, AZ group's website also offers info on bike nights, poker runs, charities, shows, group meets and more. Updated frequently, be sure to check their site out often for what's next in 2018.
QUADS & ATVs

a. AZ ATV Riders
Website: http://www.azatvriders.org
Description: Established in 2001, this ATV club is based out of Phoenix and members do all types of rides throughout the state. No matter if it's an easy or difficult trail, there's options for all levels of rider skills. The group also organizes campouts and volunteer with trail cleaning and upkeep.
BOATS

BOAT CLUBS:
a. Arizona Dragon Boat Association
Website: http://www.azdba.org
Description: A non-profit organization, the Arizona Dragon Boat Association was founded in 2003 and has hosted 14 annual races as well as hosting regional, local and corporate team competition. Currently, the club has 10 teams and are always open to new potential paddlers!
b. Arizona Yacht Club
Website: http://www.arizonayachtclub.org
Description: The Arizona Yacht Club was formally started way back in 1958 and currently is comprised of over 200 families that perform sailing and racing on 2 lakes (Lake Pleasant and Tempe Town Lake). Their site provides current info on sailing classes, racing and events.
c. Bartlett Lake Boat Club
Website: http://www.blmboatclub.com
Description: The official Bartlett Lake Boat Club website. Here you can purchase different levels of membership, check out the different types of water activities, read the newsletter and make contact to learn more about storage, boat rentals, club info and special offers.
d. Lake Pleasant Sailing Club
Website: http://www.lakepleasantsailing.com
Description: Celebrating over 40 years since its' inception, this boat club hosts events on Lake Pleasant, other Arizona lakes, in California and even the Bahamas! This club prides itself in having a mission of water safety, seamanship and being active in recreational and social programs.
e. Phoenix Sail and Power Squadron, Inc
Website: http://www.phoenix-usps.org
Description: The Phoenix Sail and Power Squadron is a unique boating club that offers training courses and membership no matter your experience level. The club hosts many activities including camping, raft-ups, parties, cruising trips and member meetings.
f. Rio Salado Rowing Club
Website: http://www.rowrio.org
Description: Formed in 1991, this non-profit boating club provides recreational and competitive rowing options for adults who are experienced or a beginner. The group also hosts learn-to-row events, classes and coaching with individual attention which translates to faster progress.
g. Team Arizona Outrigger Canoe Club
Website: http://www.tazocc.com
Description: Founded in 2004 by Coach Allen, the Team Arizona Outrigger Canoe Club paddles in honor of their founder who passed away in 2009. With the mission to promote Hawaiian culture through competitive paddling with youth, adults and family, this is one amazing and unique AZ club!
h. Tucson Sailing Club
Website: http://www.tucsonsailing.com
Description: This sailing club was formed in 1970 and to this day continues to promote sailing, encourages social engagement and nurturing of friendships among members. A non-profit organization, this group hosts a variety of events, picnics and cruises throughout the year.
BOAT SHOWS:

a. Lake Havasu Boat Show
Website: http://www.lakehavasuboatshow.com
Description: An annual boat show that has been going on now for 27 years at Lake Havasu, AZ. This year, it will be on April 6-8, 2018 and there will be shows, great food, sponsors, shopping, vendors, fun festivities, free parking and close host hotels. Don't miss this great attraction!
BOATING INSTRUCTORS:

a. Learn to Sail in Arizona
Website: http://www.gosailaz.com
Description: Learn how to sail on a sailboat! This Lake Pleasant organization offers a variety of classes and rentals for those who want to master the art of sailing. The website resources include a picture and video gallery, various lesson options, class schedule, info about the captain and a lot more!